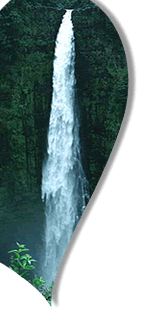 Some of the best things to see and do when you stay in with us in Hana.

1. Waianapanapa State Park - Black Sands Beach
Wainapanapa could be one of the most beautiful spreads of coastline in the whole state of Hawaii. You will find volcanic black sands beach surrounded by partially submerged lava tubes, blow holes and caves. Visit the cave where legend has it that Chief Kaakea, a jealous cruel man, suspected his wife, Popoalaea, of having an affair. She left her husband and hid in a chamber of the Wainapanapa Cave. Popoalaea and her attendant only ventured out at night for food. One day Kaakea happened to be passing by the cave and saw her servant's shadow; he then entered the cave and killed Popoalaea. At certain times of the year, the water in the tide pool turns red as a tribute to Propoalaea; although others believe that the change in color is due to the presence of small red shrimp in the water. You will find picnic tables as well as rest rooms and showers to suit your needs. Walking along the ocean all the way to Hana town for 2 miles is a great way to get your exercise. The entrance to Waianapanapa Park on Hana Road is about 8 minutes before you reach Hana town.

2. Ka'eleku Caverns
Find yourself in an incredible underground world that hasn't changed for 30,000 years. You will be guided through an enormous volcanic cavern system (18th largest in the world). It is off of Ulaino Road, about 10 minutes before getting to Hana town.

3. Hana Town
A small town that offers the famous Hana Hotel, Hasagawa's general store, two restaurants; the Hana Hotel and the Hana Ranch Restaurant, Hana Cultural Museum, churches and Hana Bay. You can walk to the Red Sands Beach.

4. Red Sands Beach
A clothing optional beach; definitely a once in a lifetime experience. It is near the center of town, past the baseball field and behind the Hana Community Center. You will find a path along the ocean shoreline that goes around the edge of the cinder cone that will lead you to Red Sands Beach. It is situated in a natural setting almost entirely of ground red cinders. The beach is in the center of a very old cinder cone with a striking red cliff backdrop. Lava outcropping protects the bay making it safe for swimming. Snorkeling is excellent.

5. Hana Maui Snorkel & Kayak Tour
Snorkel in a protected cove teeming with tropical fish and coral gardens of amazing shapes and colors. Your guide is a certified Red Cross Lifeguard and Water Safety Instructor who tailors your tour to fit your skill & comfort levels.

6. Hamoa-White Sands Beach
Hamoa is a white sands beach set in an awesome tropical setting. It is one of the most picturesque beaches in Hawaii; It is 2.5 miles past Hana town. Take the road on the left to Hamoa about 1.5 miles. Walk down the steps to this small cove beach. Hamoa is about 1000 feet long and 100 feet wide, and sits below 30 foot black lava sea cliffs. Hamoa is a favorite among sunbathers and swimmers. It is ideal for swimming and snorkeling in the summer, and bodysurfing and boogie boarding in the winter. The beach property is owned by the Hana Hotel, and allows the public to use the rest rooms, showers and picnic tables.

7. Waioka Pond, a.k.a Venus Pool
A natural freshwater swimming pool mixed with salt water. It is scoured out of solid rock, and is along side and protected from, the ocean's roaring waves. A most enchanting way to spend an isolated day. Go to 48 mile marker off the Hana Highway before the bridge, about 7 minutes from Hana town. Climb the fence on the oceanside and follow the footpath that parallels the stream. Turn right at the stream and take the path down to the smooth rocks above the stream. Just off the white rock waterfall is a huge pond with a small island in the middle that you can swim to and relax.

8. Pools of Ohe'o, a.k.a. Haleakala National Park and The Seven Sacred Pools
Drive to Kipahula, Haleakala National Park, 25 minutes past Hana on County Road 31. You can park in the parking lot at Haleakala National Park. You will enjoy swimming and sunbathing in a series of 24 waterfall pools set in a natural rock formation bordered by cliffs cascading into the ocean from the magnificent 400 foot Waimoku Falls; what an awesome sight to behold. You can hike up the pools and find secluded places to swim.

9. Waimoku Falls & Bamboo Forest
To get to Waimoku Waterfall, take a 4 mile hike along a jungle trail through an enchanted bamboo forest which makes a gigantic bamboo wind chime; being there you can have almost a cathederal-like religious experience. Not to be missed.
10. Maui Stables
Spend a day with native Hawaiians, where they live and play, as they practice daily the culture of their islands. Journey back in time and let them share with you their tie to Maui Climb the mountain on horseback to the mouth of the Kipahulu Valley, home to most of Hawaii's protected native species, where Haleakala National Park spills from 10,000 ft. to sea level at the pristine 'Ohe'o Pools. About 35 minutes past Hana on County Road 31, less than one mile past the Haleakala Park sign in Kipahulu. Maui Stables is between the 40 and 41 mile marker on your left.

11. Palapala Ho'omau Church - Charles Lindbergh's Final Resting Place
About 1 mile from Haleakala National Park on your left on County Road (31) Turn left for a short distance to the first road on your left; take this to the church. Charles Lindbergh's grave is set in a stunning, tranquil background of shade trees on a cliff site overlooking the ocean.
Call Us At: (808) 248-7824

or call (808) 248-7713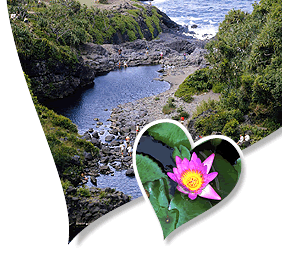 | | |
| --- | --- |
| | It is with great regret that we have to leave after only 2 nights in "your slice of paradise". The sounds of the chirping birds, geckos, frogs, cows, etc; as well as the fresh country air, coupled with the ocean views and rolling green hills stirred our souls and lifted our spirits-what an exhilarating and joyous experience. Your hospitality and happiness is felt in your cozy cottage, luscious plants and succulents, and spiritual decor. |